Refer A Friend Program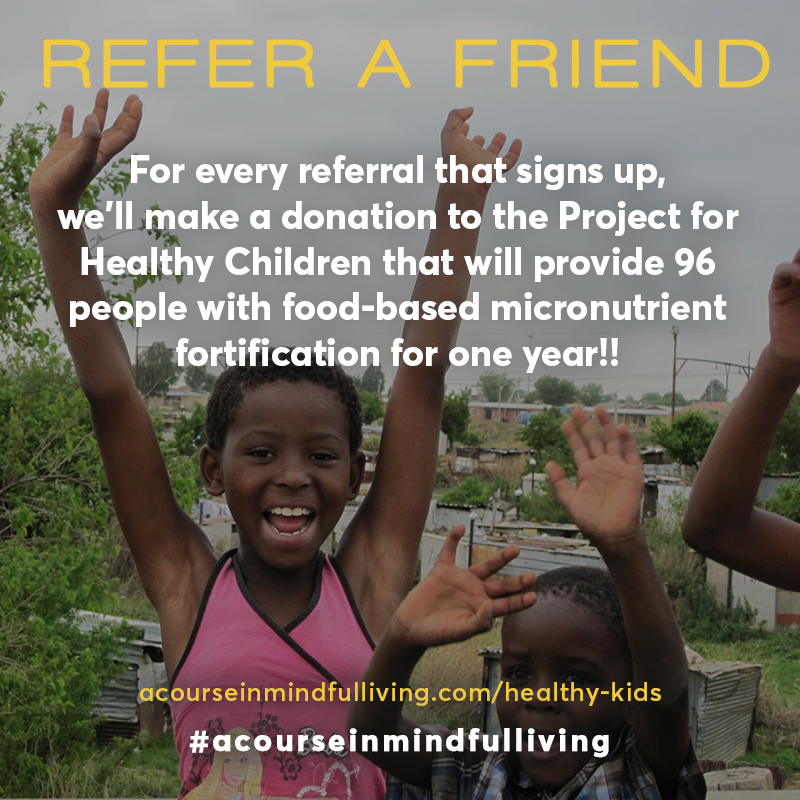 Did you know that by referring others to A Course in Mindful Living using the special link http://bit.ly/ACIMLhealthy-kids you can engage in an act of Altruism and Generosity? Our Refer a Friend program is designed so that every referral that signs up using that link will result in a donation to Project Healthy Children. Each donation/referral will provide 96 kids with food-based micronutrient fortification for one entire year!! Our goal is to feed 10,000 kids this year.
How Does the Refer a Friend
Program Work?
Anyone that clicks the link – http://bit.ly/ACIMLhealthy-kids – will be taken to the webpage that explains what the course is about, with buttons to sign up. If they sign up for ACIML, they will be tracked in our system so we know how much to donate on your behalf (*we won't be tracking referrals to individuals – rather, we're tracking the total # of referrals). It's important to note that the link – http://bit.ly/ACIMLhealthy-kids – must be used to sign up otherwise we won't be able to track your referral.
How Can I Participate?
To refer a friend, simply click on the share buttons below so they can visit this page to learn more about the program.
We've also included some sample posts below for social media and/or email that you can copy and paste!
Remember to check back often to see how much closer we are to our goal of feeding 10,000 kids this year!
Sample posts for Email and Social Media
FACEBOOK
Have you heard about #ACourseInMindfulLiving (ACIML) with @ElishaGoldstein? It's a breakthrough 6-month online #mindfulness training program that includes live global mentorship, peer-based accountability groups, and a thriving and highly active community. What's more – by referring others to ACIML using the special link http://bit.ly/ACIMLhealthy-kids you can engage in an act of #Altruism and #Generosity! Through their "Refer a Friend" program, anyone that signs up for the course using that link will trigger a donation to @ProjectHealthyChildren that will provide 96 kids with food-based micronutrient fortification for one entire year!! This is far from a standard online course and it offers one of the most enriched learning experiences I've seen! Plus, via this referral program, you can help children in need while also making a commitment to boosting your well-being in 2017/2018! Space is limited and you can save $150 if you enroll during the Early Bird promotion that's happening NOW through August 28. Check it out! http://bit.ly/ACIMLhealthy-kids
TWITTER
@ElishaGoldstein is donating to #ProjectHealthyChildren for every #ACourseInMindfulLiving signup using this link: http://bit.ly/ACIMLhealthy-kids